| | |
| --- | --- |
| Creator | Percival Lafer |
| Manufacturer | Percival Lafer |
| Design Period | 1970 to 1979 |
| Production Period | Unknown |
| Country of Manufacture | Brazil |
| Identifying Marks | This piece has been attributed based on archival documentation, such as vintage catalogs, designer records, or other literature sources |
| Style | Mid-Century |
| Detailed Condition | Very Good — This vintage/antique item has no defects, but it may show slight traces of use. |
| Restoration and Damage Details | Patina consistent with age and use |
| | |
| Materials | Rosewood, Leather |
| Color | Green |
| Width | 138 cm |
| Depth | 75 cm |
| Height | 41 cm |
| Weight Range | Standard — Between 40kg and 80kg |
About the Designer
Percival Lafer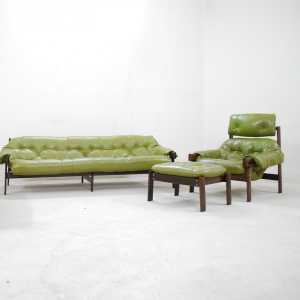 Brazilian architect, furniture designer, and product developer Percival Lafer championed good design for affordable prices. Often referred to by collectors as the "best-kept secret" of mid-century modern design , Lafer is relatively unknown outside of his home country, where he made an indelible contribution to Brazilian design.
Lafer studied architecture at the prestigious Mackenzie Presbyterian University in São Paulo. Soon after graduating, Lafer's father passed away unexpectedly, leaving the family furniture store to his sons. Lafer was forced to abandon his career in architecture before it had begun, diverting instead to furniture design, a career he could pursue more easily due to the nature of his inherited business.
Lafer's first collection included the streamlined MP-1 Armchair (1961), which featured a T-shaped steel base covered with thin pieces of solid rosewood, and an upholstered seat comprised of layers of foam, instead of springs. The chair was an instant success, and gave Lafer the capital he needed to set up his own company. Lafer applied and for and won many patents throughout his career, establishing both a well-earned reputation for innovation and originality in design and the confidence to name his label Lafer MP— the acronym MP standing for Moveis Patenteados or "Patented Furniture" in furniture.
Seeking to make good design accessible to all, Lafer designed furniture with mass-production in mind, and through economies of scale, was able to produce modernist furniture for more affordable prices aimed at the middle classes. The MP-041 series (1965) included seating with solid hardwood frames and hand-tufted, pre-formed cushions. Crucially, the collection could be easily dismantled and reassembled, enabling flat-packed delivery that minimizes shipping costs. Other notable designs include the materially-minimal MP-89 Armchair(1970), with cut Plexiglas legs, net-like seat, and leather cushions; the MP-071 Armchair (1973); the S1 Collection(1975) of sofas, armchairs, and tables; and the MP-163 Armchair (1976), better known as the "Earth Chair". Despite Lafer's penchant for exotic solid hardwoods and high-quality leathers, he ensured a thoroughly modern aesthetic through the use of polished and matte steel in the structure of his seating designs. As testament to Lafer's reputation for innovation, the stock left unsold by the commercially-disastrous multipurpose Mini Sala(1966) was quickly recycled into the well-received Mirage Armchair in 1967. Lafer's designs were sold by the enterprising retailer Brazil Contempo, through a modern supply chain that , having conquered the Brazilian market, soon allowed Lafer MP to export to the US and Europe, a successful venture from 1970 until 1985, when increased shipping costs made it no longer viable.
In addition to furniture, Lafer also designed thefiberglass-bodied MP Lafer Sports Car (1974, updated 1984), telephone booths, and kiosks. In the 1980s, Lafer took his business in a new direction, focusing on the production of reclining chairs for domestic use and in healthcare-related services.
Today, the company continues to produce ergonomic chairs. Lafer's vintage designs are gaining more and more recognition (and value) on the vintage market as their timeless aesthetic is being discovered by mid-century lovers.